Welcome to brianmacintosh.com. I'm Brian MacIntosh, and I am a game programmer in the Orange County area of Southern California. This site serves to host and distribute some of my games and my blog, below.
I have developed games and apps for the XBox 360, Windows PC, iPad, Amazon Alexa, and Windows 7 Phone. I'm particularly interesting in procedural generation, pixel art, and emergent gameplay, and I'm looking forward to developing more games with these technologies.
Blog

Ludum Dare #27 Complete
September 02nd, 2013 @ 22:26
Tags:
ludum dare
,
game jam
,
post mortem
,
the 91st parallel
Last weekend, I participated in the 27th Ludum Dare. For anyone who doesn't know, the Ludum Dare is a competition held a few times a year in which participants attempt to make a game in 48 hours. Games made for this Ludum Dare had to follow the theme "10 Seconds".
When I first heard the theme, I was a bit put off. I thought it was too shallow, too easy to just tack onto an arcade clone. Fortunately, many brilliant people proved me wrong. However, I opted to take the theme a little more laterally, interpretting "seconds" as a measure of distance based on global lat/lon coordinates. I thought, "what if there were only 10 square seconds of the earth left?" The earth would just be a really small section of the surface (about 300 ft on each edge) and a huge slice of the core dropping off into nothingness.
That sounded like a great setting for a survival-horror game, something I hadn't tried before. The design I ended up attempting to implement was very ambitious. Overall, I think this was a good plan, even though I certainly didn't get to everything I wanted to. I was considering and developing a lot of extra content for the game, rather than just taking the first few things I thought of and ending design because of scope. Of course, over-scoping is still a terrible thing, but by prioritizing things that needed to get done, I was able to still have a playable game after 48 hours even while not reaching all my goals.
I did neglect the gameplay aspect of the game a bit during this jam. Had I been able to implement some form of combat and developed the building mechanics more, the game would have become much more viable from a gameplay perspective. So perhaps the scope did kill me there. I ended up getting to explore ideas for creating ambiances and environments, though, and I think on that front it went fairly well.
You can play my entry here: The 91st Parallel.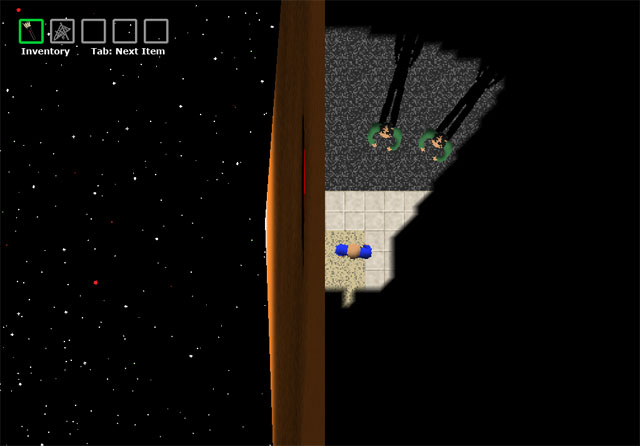 Permalink
Super Pirate Box Release
January 26th, 2013 @ 15:33
Tags:
game jam
,
super pirate box
I finished up polishing the menus and high scores for Super Pirate Box. The completed game is now available on the project page!
Features:
Frantic pirate-shoving action
Online high-score tables
Silliness
Local statistics and personal high-score tracking
Electromagnets as cheap plot devices
Hope you enjoy it!
Permalink
Super Pirate Box: 48 hours postmortem
January 20th, 2013 @ 4:12
Tags:
game jam
,
super pirate box
,
post mortem
Last weekend, I participated in a 48-hour game jam with UCI's Video Game Development Club. I had a lot of fun pulling a couple of 14-hour workdays with my fellow game developers. Together, we turned out four games in the weekend, spanning platforms including XNA, Unity, and SDL.
I decided to use my weekend to learn more about using SDL with C++ to develop a 2D game. I spent some time in the preceding weeks writing some libraries for spriting and controls to simplify the process, but of course, there were still a few issues during the weekend. For one thing, I hadn't realized that SDL doesn't load PNG images natively. I was able to implement the SDL_image library, but that set me back a bit.
Anyway, the game itself it an arcade-style top-down game. You play as a pirate who must repel legions of enemy pirates who try to board your ship. However, for some reason neither you nor any of the other pirates have weapons. So what do you do? You attempt to shove them overboard, of course. It's fast-paced action, easy to pick up, but difficult to master - and one slip-up means starting over from zero!
I hope to be able to wrap the game up within a week with some basic menus and online highscores.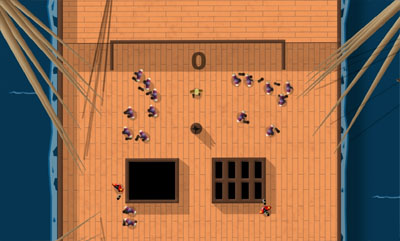 Update: Get the game on the project page.
Permalink
48 Hours Later
August 27th, 2012 @ 19:12
Tags:
game jam
,
ludum dare
,
primeval labs
The game, entitled "Primeval Laboratories", is done as of 6:00 PM yesterday! I think it turned out well. I had a lot of fun making it and testing it, and seeing a genetic algorithm finally working is very satisfying.
I've always been decent at art for a programmer, and I guess I assumed that I'd be able to do music and sound as well. Well, not in 48 hours, at least. So I learned that I stink at that!
Check it out here. I'll probably be making a page for it on my site here as well.
Permalink
Genetic Algorithms are Interesting
August 26th, 2012 @ 2:49
Tags:
game jam
,
ludum dare
,
primeval labs
The game is looking pretty cool, by the way, at least in my opinion. Maybe I've just overly fascinated with this genetic thing.
I'm not quite convinced that it's working correctly, though. One trial run I did thought it would be a good idea to breed out every single weapon gene except for a single (rather mediocre) lime-green laser beam. To make matters worse, the children kept wasting their mutations on stupid things like turning the laser hot pink. I'm bumping up the importance of dealing damage to try to tackle this. It's possible that we're just suffering from an extremely small sample size.
Permalink