Welcome to brianmacintosh.com. I'm Brian MacIntosh, and I am a game programmer in the Orange County area of Southern California. This site serves to host and distribute some of my games and my blog, below.
I have developed games and apps for the XBox 360, Windows PC, iPad, Amazon Alexa, and Windows 7 Phone. I'm particularly interesting in procedural generation, pixel art, and emergent gameplay, and I'm looking forward to developing more games with these technologies.
Blog

Ludum Dare 32 Brainstorming
April 18th, 2015 @ 12:31
Tags:
ludum dare
,
game jam
,
threejs
,
javascript
,
box2d
Brainstorming thought process for Ludum Dare 32: An Unconventional Weapon.
I like airships.
Unconventional airship warfare?
Porcupines.
What's more fun than airships slinging porcupines at each other?
Porcupines flying airships, slinging themselves at each other!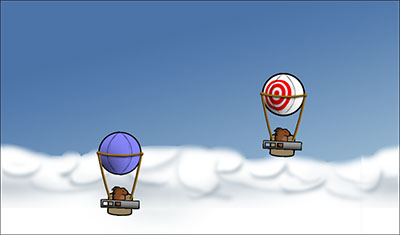 Permalink
Outpost: New World (Ludum Dare 31)
December 29th, 2014 @ 0:28
Tags:
outpost new world
,
ludum dare
,
game jam
,
threejs
,
javascript
Just a few weeks ago, Justin and I participated in the 31st Ludum Dare. The theme: Entire Game On One Screen.
We decided ahead of time that we wanted to make a game that was more action-packed and also more polished than our usual fare. I'm not sure we totally succeeded in overcoming our propensity for making fairly complicated simulation games, but we did manage to make our most polished jam game yet. Play it here!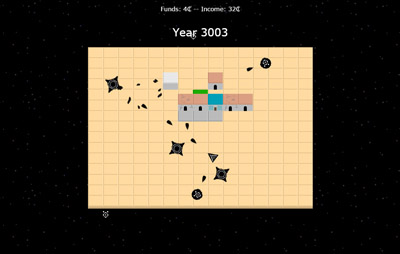 Outpost: New World
Our past experience with game jams lead us to decide that we wanted to be done with the core game by early afternoon of the second day (sooner than halfway through the jam). We would then use the second half of the jam entirely for polish. While we fell behind on that goal, finished the core game around 6 in the evening of the second day, that still left us the entirety of Sunday for polish. It worked out very well - I was able to put together a very dramatic opening cinematic, a generate a full range of sfxr-generated sound effects, and record some moody cello music (three elements that we usually don't have time for in jams).
While I'm not a huge fan of how the final gameplay turned out, others seem to be enjoying it much more than any of our previous attempts. We'll see what the results show in about 21 hours.
Permalink
Ludum Dare #30 Results
September 17th, 2014 @ 11:48
Tags:
ludum dare
,
space transport tycoon
,
game jam
Results for the past weeks' Ludum Dare judging are in! While we knew we had made a game that was ill-suited to the judging style of the Ludum Dare, in which people have to play and judge a lot of games in a short time period, there were definitely some who really enjoyed the complexity and took time to learn the game.
| | | |
| --- | --- | --- |
| | Coolness | 84% |
| #99 | Theme(Jam) | 3.76 |
| #345 | Innovation(Jam) | 3.11 |
| #487 | Humor(Jam) | 2.13 |
| #487 | Overall(Jam) | 3.06 |
| #532 | Graphics(Jam) | 2.98 |
| #597 | Fun(Jam) | 2.64 |
| #618 | Mood(Jam) | 2.61 |
| #629 | Audio(Jam) | 1.83 |
I played some other really cool games while I was judging. Here are a few that I stumbled across:
Permalink
Ludum Dare #29 Results
May 19th, 2014 @ 23:37
Tags:
ludum dare
,
legend of the thunder fish
,
game jam
The results are in from Ludum Dare #29. Fun being probably the most important category to me, I am quite happy with my rankings. I'm definitely improving over my scores from the last two jams, and I was happier with the game as well. The Dare had a record-breaking 2497 submissions this year.
| | | |
| --- | --- | --- |
| | Coolness | 82% |
| #64 | Theme(Jam) | 3.84 |
| #140 | Fun(Jam) | 3.42 |
| #211 | Mood(Jam) | 3.43 |
| #240 | Innovation(Jam) | 3.30 |
| #249 | Overall(Jam) | 3.39 |
| #316 | Audio(Jam) | 3.18 |
| #318 | Humor(Jam) | 2.70 |
| #485 | Graphics(Jam) | 3.07 |
During the judging period, I played 60-something games. You can find lots of "best-of" lists around - here are the best games I happened to play.
Permalink
Ludum Dare #29 Complete
May 11th, 2014 @ 2:43
Tags:
ludum dare
,
game jam
,
post mortem
,
the legend of the thunder fish
,
html5
,
threejs
,
javascript
A few weeks ago, I participated in the 29th Ludum Dare. It has been a while, but not many posts, since I last participated in the Dare. The theme for this one was "Beneath the Surface".
I worked with Justin Britch on this one. We met just after the theme was announced to brainstorm. I really liked this theme - it evokes mystery and exploration, provides an easy setting (underground or underwater) to start with, and could simultaneously be tied into gameplay elements. While we thought it would have been a lot of fun to make "Ben Eath, the Surf Ace", we ultimately decided that we really wanted to go after the mystery, the thrill of exploration, fear of the unknown, and such themes. We also knew that we wanted to attempt to introduce some sort of narrative into the world.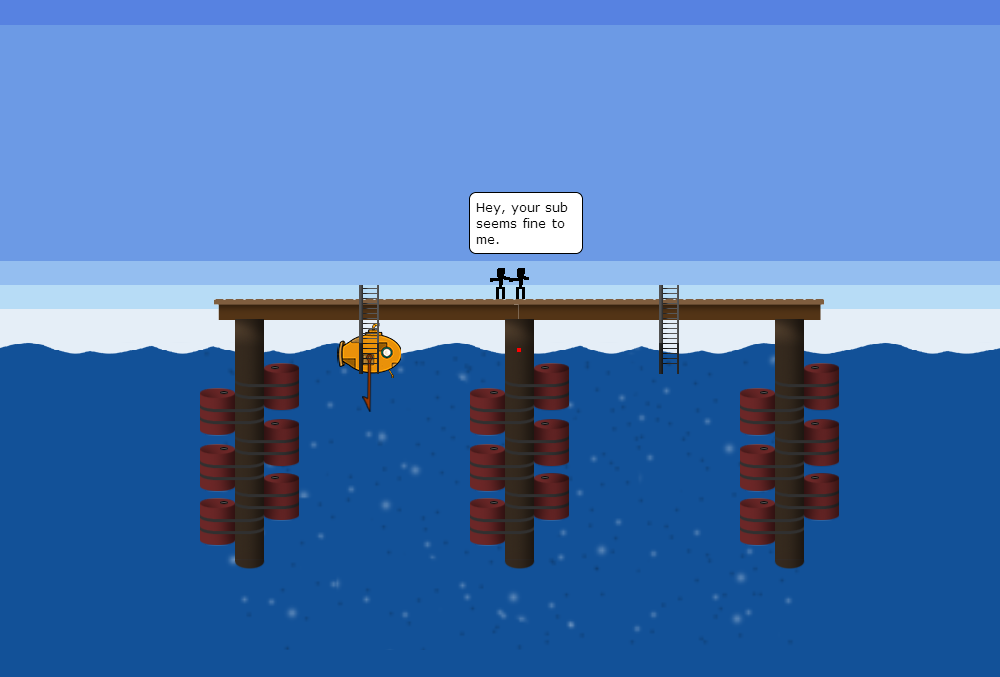 The beginnings of the conversation system.
The design was ambitiously scoped for a jam, and I'm happy I was able to turn out so many features.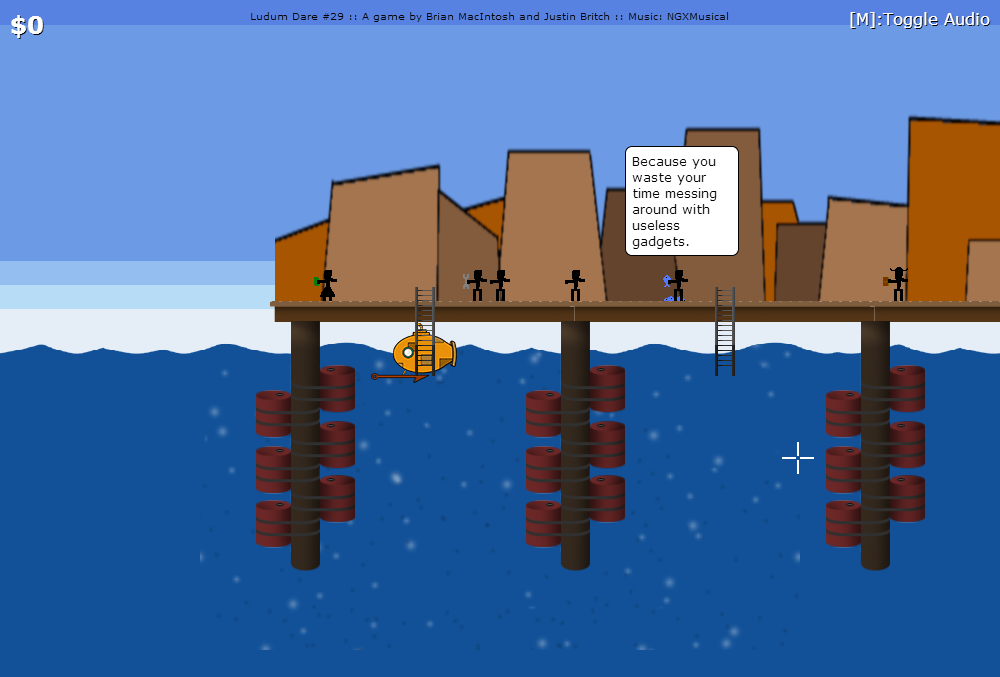 More conversation.
The Good: Dedicating time during the development process for polish worked well for the game. When polish gets left as a task for the end of the jam, there's often no time to actually do it. I didn't leave a feature until it was in a state it could stay in.
I also didn't run into too many momentum-killer problems. I've worked on several smaller projects using HTML5 and ThreeJS over the past few months, so I knew some of its quirks and was able to work continuously without getting stuck on strange bugs, even though the codebase for Thunder Fish pushed way past the size of my previous HTML games. Familiarity is key for jams, and it definitely pays off in the ability to continue grinding out features.
Learned: Yet again, I completely failed to allocate time for audio. Fortunately, I was already in the Jam category for this one, so I pulled some free music from NGXmusical in the last hour. Sound effects could have improved the feel even further, though.
You can play The Legend of the Thunder Fish on the web!
Also some of the other Dare games, here: Ludum Dare 29.
Permalink